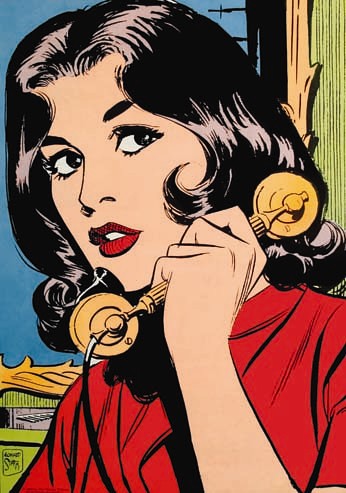 How to Have Hotter Phone Sex + Tips and Examples
COVID-19 and social distancing lead to a cultural shift. For awhile people were having less sex but people weren't any less horny! We saw the expert sex educators get creative in ways to help people adjust their sex lives to the new world. From mutual masturbation, sexting tips and my personal favorite…to keep your sexual energy vibrant and radiant is turning to good ole fashioned phone sex. It's not like sexting, where you can send a booty pic from last month, while typing "she misses your face" with your left hand and eating Cheeto snacks with your right. And while life has shifted to a way where we can physically enjoy each other's company I still vouch for phone sex. It is a titillating and engaging way to keep things fun!
The first time I had cellular sex, it was just a friendly phone call with a guy, who lived across the country from me mind you, whom I casually flirted with. Then it got late, and there was a mood shift. Our voices got lower and we were saying all the things we'd do the next time we saw each other.
The momentum built up, we were really getting into it, and it was almost as if I could feel him. By the end, we were panting and shuttering. This left us pleasantly shocked with ourselves afterward, but it created a new level of trust. Ever since then, phone sex is a staple in my playtime. Here is a curated guideline of strategies I've gathered and learned through personal journeys including my own.
Like Always, Establish Consent
Consent still applies and always will apply to any sexual act. So, just like unsolicited nudes are downright wrong, so is randomly calling someone while you're jerking off and saying "I want to F you." Give yourself permission to BLOCK anyone who does this! Now that we've established consent is always necessary, I want to remind you how sexy asking is.
This is a great time to get to know if your partner's desires are on the same page as yours. Moving into comments such as "I've been thinking of you all day, do you like knowing that?" Is a sweet flirt and very inviting.
Or when your partner says "I'm cozied up in bed like a burrito" you can respond with "I bet you're one tasty burrito." As funny as that sounds this is great for people who need to use humor as a way to loosen up and it still invites your partner a chance to play along or blackout.
A more direct approach is saying "Have you ever had phone sex? If you'd like I would love to share in that experience together." Find your voice in this and have fun with it.
The key to proper consent is inviting your partner the chance to say YES.
Build it Up!
Okay, it's game time! A great way to build up courage if you and/or your partner have been wanting to have phone sex, but are feeling unsure of where to start is to go back to the basics! That's right. Sexting! Sending flirty messages and nudes throughout the day can really ease up the suddenness that can come with phone sex. So proceed as you normally would and then throw in that "I would love to hear your moan, can we make time for phone sex today/tonight?" for a smoooooth transition.
TIP: Before you start, give yourself an extra boost. You're desirable as heck! Even if you can't see it (right now), someone on the other line is craving you! Look up and write down naughty phrases, adjectives, and nouns! This will help you fill up silent moments. Once I received a very steamy voice memo and they had written out every word prior to because they struggled with sexual security but still wanted to explore that world.
TIP: Remind yourself why this is FUN for you! Do this because you want to. There shouldn't be an imbalance in co-pleasure.
Be Attentive & Expressive
Remove your distractions, this deserves all your attention. If you're not in the mood, let them know and reschedule. Honest communication from the jump goes a long way. Get rid of clutter, dim the lights, anything you need for your mood. Remember that this is a shared experience. Engaging with your partner and checking in, makes things more pleasurable for everyone. Play together in mutual masturbation by bringing in your favorite toys and lubes.
TIP: Soften/deepen your voice in a sultry tone and drag out a few words. If you don't know what your sexy voice is, use your sleepy voice, you know the one! Studies show that the tone of our voices can increase attraction without even having seen the person's face!
Notice their moan, their breathing, their pace as you share in mutual masturbation. This is your time to be expressive. Use your words by narrating what you're doing. When you feel the momentum slowing down ask your partner a question.
Try These Lines Here:
How would you touch me right now?
How bad do you wanna cum?
Don't you wanna be deep inside me?
What do you want me to do?
Can you feel my length? (Great when your partner is using their finger or a toy to penetrate)
Now, you don't always have to be speaking. When words don't seem fitting at the moment let out a passionate moan/grunt, suck your breath through your teeth, and if you wanna feel more connected whisper out their name. This lets your partner know you're enjoying yourself and gives them more confidence to keep going. It also releases any awkwardness that might've been there.
Get on Facetime
Take it to the next level and turn on video chat. Enjoy the best of both worlds with auditory and visual playtime. Facetime is my absolute favorite way for digital play. If you're anything like me, you want your sex appeal to be adored and seen when playing. Set up your area to look inviting and cozy.
Grab a ring light or turn on some white or warm lighting
Put on a cute one or two-piece outfit/lingerie that you can slowly take off and tease a partner with.
Make the other person wish to be there even more! You don't have to be a porn star or have professional onlyfans to have fun in front of the camera. Being present as mentioned earlier and enjoying your pleasure is what makes things sexy. This is more of an experience and less of a performance. Remember the other person on the line is SO EXCITED to have you on their cell. So tease them, flirt, play, and touch yourself to the thought of enjoying the physical engagement.
RolePlay Time
Get creative. Create a world of pleasure that you've been wanting to share with someone in the world of sexual imagination. This is also a great time to get comfortable with the idea of roleplaying something you've always wanted to try in person but maybe have felt hesitant. Like always establish consent for any roleplay you have in mind.
Even if a storyline isn't really your style but you've been wanting to hone in on your seductive energy but tend to be on the shier side of things, this is the time to give that a go! You can be anyone you want to be during phone sex. Knowing you won't have to see anyone's reaction and that you're in a controlled environment from the comfort of your home can make exploring fantasies and sexual energies less tense for your headspace. So get into that character that makes you feel confident or sexy or whatever it is that makes this fun for you too. Over time, that mindset can roll over into physical sex from the practice you've been giving yourself within a safe space.
It's about the Experience
Reminder: IT'S OKAY IF NEITHER OR ONE OF YOU CUM'S! Odds are this is new territory, remove the pressure of having to finish with an orgasm. Phone sex is a great way to wrap yourself up in your sensuality without having actually had physical sex. Especially with everything going on, we need spaces and ways to remind ourselves we are still allowed pleasure.
This could also be an opportunity to dive deeper with the other person on the phone if that's what you both seek. Being able to passionately discover one's pleasure, may it be yours or your partner's allows you to explore in a more delightful and safe environment.